Don & Sandi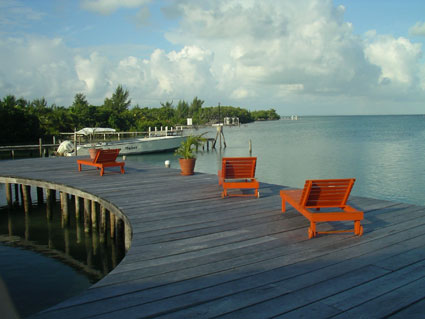 We just wanted to let you know what a wonderful time we had at
St. George's Caye Resort in Belize
. As you may know, we have traveled to many wonderful destinations through your travel program as long term customers. We were very pleased with our experience this past week. The Resort staff went out of their way to ensure that we had a memorable experience. The
accommodations
were excellent!
We are experienced divers, having logged over 450 dives each. The
dive operation
was truly above and beyond the typical dive resort. They handled our gear completely from arrival to departure. Every day, all of our gear was on the boat, meticulously maintained and ready to go. The diving was fantastic!
There were no signs of reef deterioration as one often encounters in the Keys, or in the Caymans. The varieties of fish and undersea creatures were very diverse. The first day of diving everyone else was going off to the Blue Hole. As we had just arrived the previous day, we weren't ready to start our vacation with a full day, three-tank dive. So the resort took just the two of us out diving with our own boat and dive master! There were several times when all the other guests were off doing other adventure trips instead of diving, but the resort was always exceedingly gracious in accommodating just the two of us. The last night we were there, two guests wanted to do a night dive. The resort sent out a boat, dive master, and crew for the dive.
We found the
food to be delicious
. The menu was varied and healthy. There was fresh squeezed orange juice and coffee sitting outside the room every morning. There was always fresh fruit on the table. Entrees ranged from stir fried beef to spicy lobster tails. Food is served family style and we enjoyed socializing with the other guests. On our last night, we did avail ourselves of a romantic dinner on the porch of the villa, accompanied by our complimentary bottle of excellent champagne.
Our package included an
adventure trip
of our choice, but we enjoyed the lodge and the island so much, that we decided not to take the trip, preferring to just stay put. The other guests did take many of the trips and said they had a wonderful time. Travelers wishing to experience a gloriously beautiful waterfront location with pampered diving, satisfying food, and good company, then
St. Georges Caye Resort
fills the bill!
Don and Sandi Buswell-Charkow