Pictured above is the ship HMS Merlin, used to assist in the Battle.
The Battle of St. George's Caye was a short military engagement that lasted from 3 to 10 September 1798, off the coast of what is now Belize. The celebratory day is typically reserved for the final battle that occurred on 10 September and marks the final attempt to take over the area. Today, the Battle of St. George's Caye is a national public and bank holiday with many parades, parties and a special youth regatta to boot!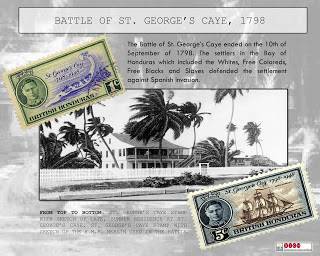 The territory that is now Belize was under dispute from as early as the mid-1750s by Great Britain and Spain. Although Spain never occupied Belize, she considered it part of her Central American territories, such as Mexico and Guatemala. The British had entered the territory as of 1638 to harvest logwood and later mahogany. Spain recognized this trade in the Treaty of Paris (signed in 1763) but did not draw boundaries (which may have suggested that Spain was giving up claims of sovereignty to the area), leading to further disputes. From 1779 to 1782 the settlement was abandoned, its settlers, known as the Baymen, and their African slaves having been deported to Cuba following a Spanish attack.
The battle of St George's Caye has always captivated historians with its combination of brilliant tactics, sheer courage and the solidarity of the defenders. For Belizeans, it marks the moment when the people of the settlement, of all races and creeds, decided to defend something that even back then they recognized as worthy of fighting for.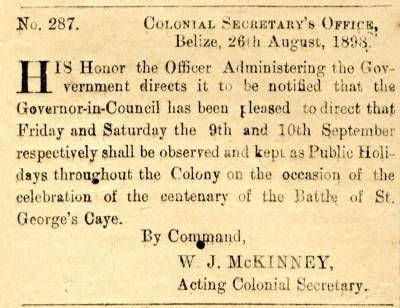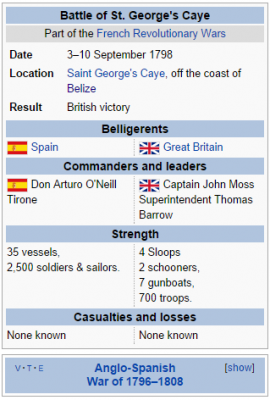 The Tenth Day of September (Song)
It was the 10th day of September
In ninety-eight Anno Domini
when our fore-fathers
won the glorious fight
at Old St. George's Caye
Hip! Hip! Hurrah. Hip! Hip! Hurrah.
Then hail them - cheer them.
Let our grateful loyal hearts not fail them,
as we march and sing and shout in merry glee
The Battle of St. George's Caye.
Hip! Hip! Hurrah. Hip! Hip! Hurrah.
Want more History of St. George's Caye? Check out the links below:
St. George's Caye Village Council :: <http://www.stgeorgescayebelize.org/events.html>
Wikipedia :: <http://en.wikipedia.org/wiki/Battle_of_St._George's_Caye>
http://www.belize.com/battle-of-st-georges-caye
Continue reading