Meet the Manager of St. George's Caye Resort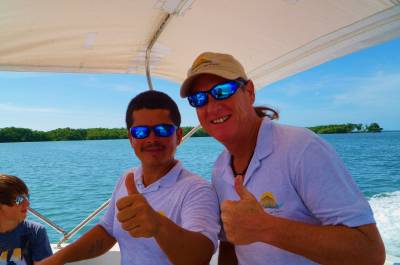 What do you do when you get an offer you can't refuse? Why, move to Belize, of course!

Four years ago Barry Nowlin and his family moved from Austin, Texas to join the St. George's Caye Resort family. Under his leadership the Resort has seen great improvement. From new buildings to organizing scholarships to developing Belizean leaders, Barry's direction and influence extends beyond traditional duties.


Barry's love for the tiny country began in the 1980's when he was studying archaeology with Program for Belize. After his studies ended Barry became SCUBA certified and fell in love with the reefs and people of Belize. "It's the only place he would take me on vacation," he wife Ashley says "I guess it's a good thing I liked it as much a he did because after my third trip down he asked me if I thought I could live here."
Back in Austin Barry was involved in caring for the elderly and mentally ill. His last few years in Texas Barry was entrusted to care for legendary Blues pianist Pinetop Perkins, traveling the world as his personal care manager. If you stay with us more than a few days you are sure to hear the Blues tunes of Pinetop, Muddy Waters, Willie Big Eyes Smith and Buddy Guy.

Barry is also an avid Rotarian of thirteen years, serving the last three here in Rotary Club of Belize. Are you familiar with Rotary? Rotary International is a worldwide organization with goals such as eradicating polio, providing TB Immunizations, making clean water available, and sending children to school. Barry served as the President of the University Rotary Club of Austin in 2008.

Barry and his wife, Ashley, have a three year old daughter who was born in Belize. Sabrina is three years old, bilingual and rarely wears shoes. She has spent most her life romping around George's Caye. Their other children live and attend school in the United States. Seth is 25 and currently living in Detroit. Emma, 15, and Lillian, 13, are busy in the states attending school and visit Belize as often as they can.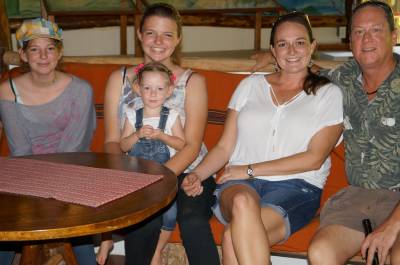 "I feel fortunate to have the opportunity to live and work here in Belize and with the people at St. George's Caye. Come see us! We are a family and we welcome you into our home!" -Barry
Continue reading