Belize has two seasons - the wet season and the dry season. Dry season runs from November to June and the wet season - or hurricane season - runs June through October.
The best time to visit Belize is during hurricane season! No kidding!
June to November is active hurricane season and the reason many travelers avoid the Caribbean during these months. However, there are great benefits to traveling to Belize in the off-season. If you are looking for sweet serenity and sweet deals this is the sweet spot to itch your travel bug!
Travels shy away for fear of bad weather. This leaves most hotel and resort occupancy rates lower than normal prompting us to provide you with discounts and deals not offered during busy season.
But the truth is most all our days here in Belize are sunny, warm and breezy - no matter the season.
Having lived in Belize for almost 4 years I can tell you that hurricane season is my favorite time of the year. This is the time of year I take my own family to explore Belize. The rivers flow faster and feel cool and refreshing. And nothing makes the jungle come alive like a strong rainfall after the dry season (aka high-season). This year my family and I traveled to Punta Gorda in southern Belize. Our days included eating meals with Mayan descendants - who readily welcomed us into their home - swimming in rivers, natural springs and the ocean!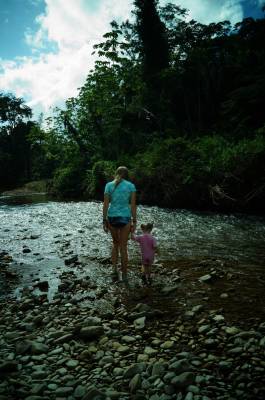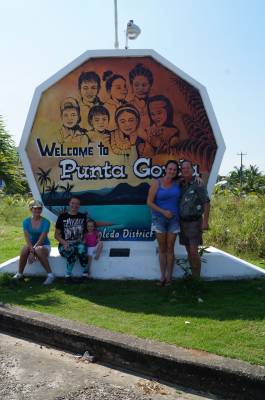 LEFT: Our Family in Punta Gorda, 
Belize 2014
 RIGHT: Lilly & Sabrina playing 
in the river at Caves Branch, 
Belize 2014.
Best reasons to travel in the off-season:
The Local's come out to the Cayes!

I enjoy meeting locals wherever I travel and Belize locals are the nicest and most friendly people you may ever meet in your lifetime. They tell stories of "how it used to be" and offer you a friendly smile when you pass them on their porches.
The beaches, bars, Mayan Ruins, Jungle Tours are all

less crowded

. Want to get the most thorough insight into Lamanai or extra passes on the zip line? Go in the off-season. You may have a shower pass by that gets you a little wet but you trade it for the undivided attention of your tour guide.
Save Money!

Who doesn't like that? Accommodations, tours, drinks and sometimes airfare are all cheaper in Belize during the off-season. Expect thirty to fifty percent off room rates country wide!
Belize weather is generally awesome all year round.

Don't' let Hurricane Season shy you away. The reality? Though hurricanes get lots of media attention, you'd have to be awfully unlucky to get caught in one. Places like Belize lie outside the hurricane belt, and statistically get hit only once every 60 years. (For more information, visit the Climatology section of the Caribbean Hurricane Network website,

www.stormcarib.com

). Belize sits in a unique position on the Earth - tucked into the nape of the Yucatan Peninsula. While we do get more rain during the off-season it often rains at night which beautifully cools off the air making for crisp cool mornings! When it does rain during the day it is an amazing sight and sound. Something you will never forget. And it too shall pass for clear skies and warm breezes.
ARE YOU READY TO GET AWAY??
St. George's Caye Resort in Belize is offering last minute specials you can't refuse!
SAVE UP TO $1000 ON A 7-NIGHT STAY FOR 2 ADULTS!
Call 1-800-813-8498 or email This email address is being protected from spambots. You need JavaScript enabled to view it..
Continue reading