What exactly is an unplugged vacation? Well, it's a vacation sans television and phones focused on people - where you literally unplug yourself from the 24/7 cycle of electronic input. Laptops and cell phones consume our lives just about all day, every day. Elections, war news, stock markets, work emails, kids homework, text messages from your mother - it's hard to go ten minutes without checking your devices. But all these things take us away from the main reason we go on vacation - to get away from the daily grind, to reconnect, to refresh.
So why not purposely take a vacation designed to help you unplug? Designed to encourage true relaxation. Most of us are addicted to electronics and don't even realize it. Ask yourself, when is the last time I went to bed without watching the news? Or checking email - one last time?
Why plan unplugged vacation? Here are 5 Reasons you need to consider it:
Your brain needs to detox. There is a gland in your brain called the pineal gland. Its responsible for regulating melatonin, which helps you to relax and get to sleep. Your computer screen overstimulates the pineal gland. When it's overstimulated the melatonin in your body is suppressed and your sleep and rest periods will be automatically more difficult. Give your brain a break!
Memories are not made staring into screens! Memories are made laughing over meals or chasing hermit crabs on the shore. Memories are made exploring ancient Mayan Ruins or hiking through jungles. Memories are made in private cabanas and staring into one another's eyes. You will return home with unforgettable memories.
You'll have more sex! If you go to bed with the TV on you are 50% less likely to have sex. Enough said! A study by an Italian sexologist

has found that couples who have a TV set in their bedroom have sex half as often as those who don't. "If there's no television in the bedroom, the frequency (of sexual intercourse) doubles," said Serenella Salomoni.

Physically connecting with your partner benefits you both. And you will likely sleep better.
Unplugged vacations encourage movement. Our bodies and our minds are happier when we move. When there is no television to watch you're more likely to take a leisurely walk go for a swim in the salty sea. You are more likely to be more active.
Because at the end of the day - people matter most. Reconnect with your partner. Or your best friend. Or yourself! Cultivating healthy relationships is difficult when we are constantly distracted my text messages and emails. When is the last time you sat quietly and focused on yourself or your partner to the exclusion of everything else for days at a time? It will change your perspective and allow for more meaningful relationships.
St. George's Caye Resort in Belize is intentionally designed to help you disconnect with the noise of your busy life. And reconnect with yourself. We make it possible for you to check your email - just not inside your private Cabana. No televisions are to be found and most people won't get a cell phone signal. But no need to worry! We are not totally off the grid. Just enough to allow you to relax and experience the magic.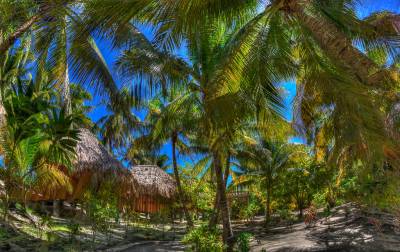 12 private thatched roof cabanas nestled on a tiny island. No roads. No stores. Just peaceful nature surrounds you. A place you can truly unwind, let loose, and relax. You will find yourself lost in the abundance of fish when your snorkel the Belize Barrier Reef. It will remind you how big and beautiful the world is and how your forgot you loved to travel. When you climb Mayan Temples with your partner you imagine what it was like living there all those years ago and it sparks an interesting conversation you may never have had. When you meet new friends at the beach BBQ you'll share stories of love and laughter underneath a sky full of stars. People matter most here at St. George's Caye Resort. Come share the magic of an unplugged vacation.
Choose and Unplugged Vacation for your next trip!
We invite you to experience the magic of an unplugged private island getaway at St. George's Caye Resort - The Gem of Belize. Getting here is easy - Leaving is hard!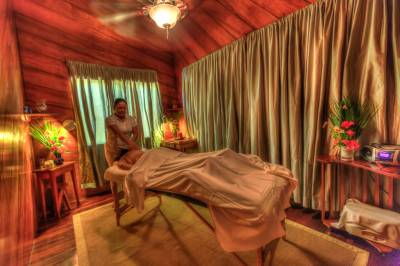 Continue reading