4 minutes reading time
(803 words)
Get your Girls and Go!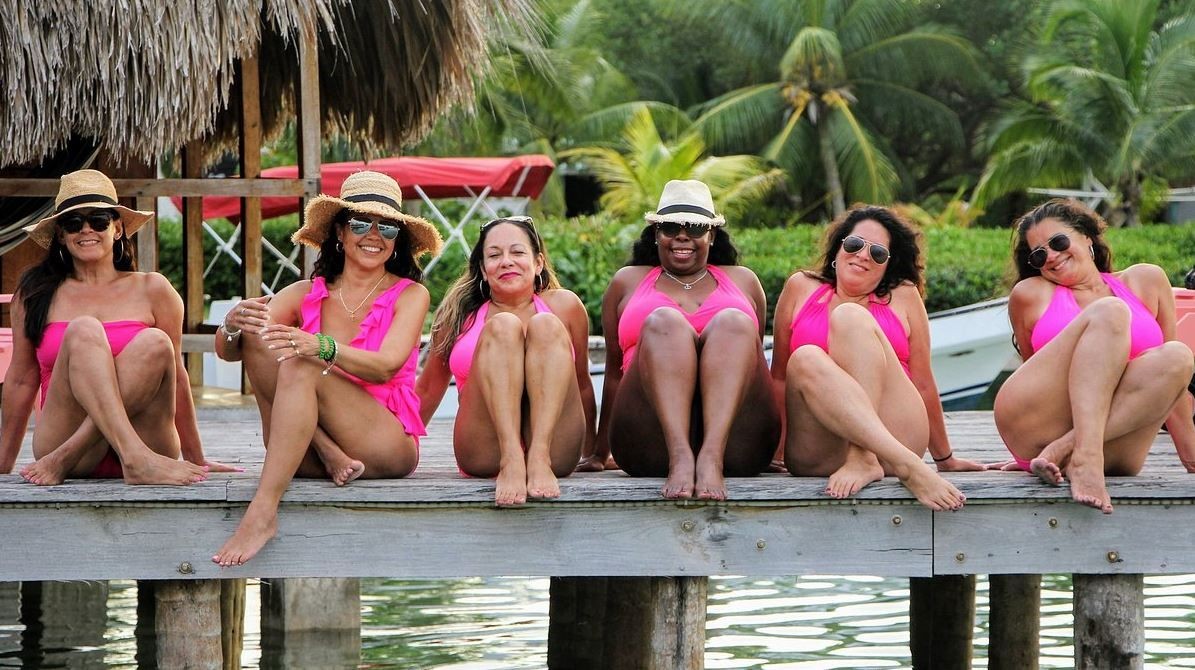 What an awesome experience! ⭐⭐⭐⭐⭐
I lucked into this vacation last minute with my friend Kimberly and wow, am I happy I said, "I'm in!"
From the van ride with Cornell to the dock, the boat ride with Andy to the island, the tour with Anderson, unpacking in our awesome Cabana, to the great 4-course meal served by Jose, waiting for us to cap off a day of travel, this 8-day vacation started out nicely.
The staff was wonderful. Oliver gave us the rundown daily. Alex made sure we were signed up for daily events. I loved that they learned and used our names quite frequently. They were pleasant and accommodating. The rooms were comfy thanks to Estella, the meals were wonderful, the drinks by Elmer and Melvin were perfection, and they were also great DJs..
You can go the route of planned activities each day that take you away from the island or relax with unlimited fishing, snorkeling, kayaking, and swimming (you name it).
My favorite parts of it all were the amazing staff, the drink Dirty Banana, the Saturday night barbeque, and THE HAMMOCKS!!! I laid in one every single day. And who can forget our Blues night convo with the manager Barry. Some of the best music and best stories.
St George Caye owes me nothing!
Even though is an amazing place for honeymooners or couples in general, It was a wonderful vacation and makes a great girl's trip. That's what we did!
When you are ready to rally your gals, this secluded island paradise is the ideal island experience for 6-40 guests If you are looking for a beautiful and secluded tropical island for a group or family trip, special event, or destination wedding, look no further than St. George's Caye, Belize!
We take care of everything
Your experience begins with free airport greeting & private transfers to our island only 7 miles off the coast. Our proximity to the mainland means guests don't waste precious time or money traveling. (Your group can arrive at once, or we can pick up at different times to accommodate all flights into Belize.)
Daily meals are enjoyed as a group on the oceanfront dining porch. The kitchen gladly accommodates special diets and allergies. Learn more about Dining with us.
Make the trip extra special with private Belize tours and excursions, group dives, a pool party, happy hour at the sandbar, or live music one evening.
Return airport transfers are included, but we know you and your guests won't want to leave!
Why bring your group to St. George's?
Many gathering areas – beach, pool, docks, lodge, verandas, rooftop, indoor conference room with amenities
Easy and free transfers – every attendee saves over $150 compared to other Belize resorts
Single, double and triple-occupancy rooms
Discounted room and meal pricing, and discounted group pricing for tours, spa, diving, and snorkeling – for as few as 6 guests
Meeting planner on site; professional wedding planner available
Most convenient island location in Belize – easy access to jungle excursions & reef
Option for "exclusive use of resort" Contact us for Resort Buy-Out options
St. George's Caye Resort is located 7 miles by boat transfer from the Belize City marina.
We are taking reservations year round, with our worry-free travel policies. We are filling fast so book soon!
We look forward to seeing you in the sun!
Questions? Contact us today +1- 507.380.9344 or Toll Free 1-800-813-8498
Email our friendly reservations specialist at This email address is being protected from spambots. You need JavaScript enabled to view it.
Or Click Here to Reserve Online
What will you check off of your bucket list during your trip to St. George's Caye Resort?
Stay Informed
When you subscribe to the blog, we will send you an e-mail when there are new updates on the site so you wouldn't miss them.