3 minutes reading time
(598 words)
Hang Your Sunhat this Holiday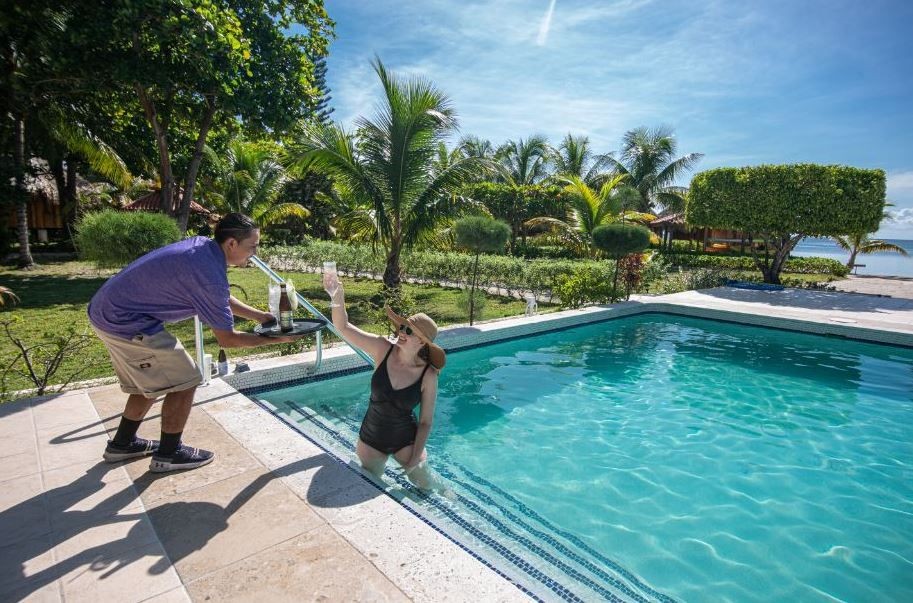 While you are scraping snow from your windshield or trudging through slush this winter, you can set your sights on warmer days, Belize's temperature rarely goes below 60 degrees Fahrenheit in December, making it the perfect weather for relaxing. While Belize has "seasons" the region is known for endless summers, and the showers season ends in November, right on time for the holidays, making Belize a suitable choice for a vacation spot in December, January, and even for your Easter plans.
Let us serve you. No dishes, no fuss! Our passion is service. We can't wait to treat you to a Holiday with spacious dining areas and incredible - authentic Belizean fare; and we pamper to you, so you can just enjoy your getaway! Bring a group and share this special time with those you care most about.
"The most relaxing holiday ever as well. The cabana over the water was lovely and very clean. You wake up to the sound of water and the birds singing. Staff were so helpful and professional. Not commercial in any way, very personal. Quite often we'd be the only two on a boat dive. Our gear was prepared for us, we didn't even have move a tank a couple of inches! The food was excellent and very healthy which I appreciated. They will prepare 'gluten-free' meals if asked in advance. They'll even come and rescue you if you happen to tip over the Hobie Cat while out at sea:) No TV, radio, cars, noise, alarm clocks, schedules, stores, etc...
The Hobie Cats and kayaks are free to use. Fishing, diving, snorkeling, and other trips are available. You can also just lay in a hammock on your porch and read. For meals, all the guests sit together at one table. It's lovely because you can meet everyone and hear what they've been up to. There is some social time before dinner at the bar. The island is very quiet and most guests were back in their room by 9pm.
My only complaint would be that the mattress isn't as soft as I like. If you are looking for romantic and relaxing, your search is over. I'd go back in a heartbeat."
The Holidays are a time of togetherness, whether it is your first holiday with your +1, or you have a family of 25, you can always rest assured that your time together will be perfect at St. George's Caye Resort. We cater to your every need, and ensure that you don't lift a finger to celebrate!
No matter what your holiday season is, or if you just need to get away, we've got you covered.
St. George's Caye Resort is located 7 miles by boat transfer from the Belize City marina. We are taking reservations for summer and fall, with our worry-free travel policies. We are filling fast so book soon! We look forward to seeing you in the sun!
Questions? Contact us today +1- 507.380.9344 or Toll Free 1-800-813-8498
Email our friendly reservations specialist at This email address is being protected from spambots. You need JavaScript enabled to view it.
Or Click Here to Reserve Online
What will you check off of your bucket list during your trip to St. George's Caye Resort?
Stay Informed
When you subscribe to the blog, we will send you an e-mail when there are new updates on the site so you wouldn't miss them.