4 minutes reading time
(847 words)
Inspired - Hopeful - Vibrant | Island Vibes at SGCR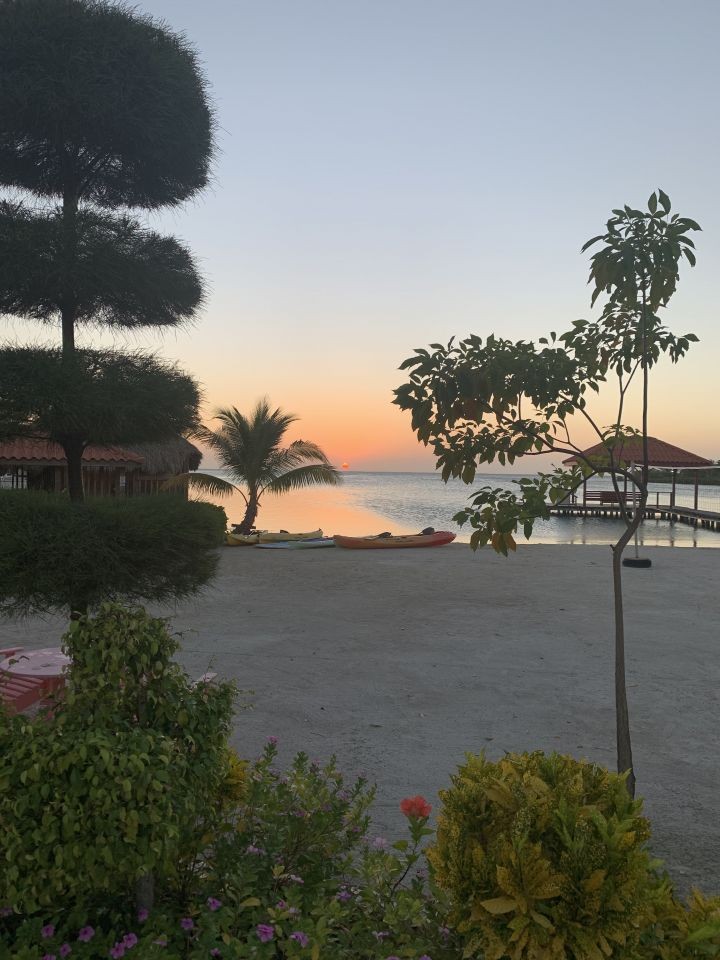 Jumping into the beautiful teal blue Caribbean Sea with a life jacket was the first of many steps taken while choosing to re-emerge from the last year. I knew long before that moment that I had slipped into default survival mode but could not tell how far. It was apparent there would be an unpacking of coping skills that may have become habits based on fear. Although the trip was previously scheduled for March 2020, I intentionally kept my bags packed in plain sight as a reminder to someday TAKE THE TRIP. Since then, I have been cautiously peeking my head out from behind a metaphorical curtain to see when it was safe for travel. For the last 12 months, the world has navigated unprecedented circumstances and re-adjusted time and time again with hope, fear, loss, best effort, exhaustion, highs, lows, and everything in between. Back to the life jacket moment....
Gloriously smiling with wind tousled hair and skin covered in briny crystals of the Caribbean Sea, I was mesmerized by the "turquoise highway" and the never-ending horizon. My eyes stretched to soak in the natural beauty as the boat stopped at our snorkeling spot just beyond an opening in the reef. And then, it started to happen. Like a ping pong ball bouncing between opposing thoughts of "what if" and "seriously, it is saltwater, you float", I was feeling my brain go through the back-and-forth contemplation of risk vs. benefit and a long list of potential scenarios. My body tensed up and my mind went into overdrive. I was nervous to get in the water. I had never thought twice about jumping into the ocean before that day so what was the big deal about throwing a life jacket on when jumping into the beautiful waters of Belize? Nothing....
But it was a clear indicator of the shift that had occurred since the last time I was in the ocean. My fear center was the main attraction on stage right now and I knew it. I was working from a place of heightened caution. Until then, I had not realized how much caution had taken over my interactions with life. At that moment, it was fascinating to witness my fear response play out in an otherwise totally exciting and enjoyable experience.
Choosing to enjoy myself and get in the water, I chose the middle road, grabbed a hold of the life jacket, and jumped in. The looks of accepting another embarrassing "Mom moment" covered the faces of my two boys patiently waiting in the ocean. It took three breaths with my face underwater to relax into the magical world of the Belize Barrier Reef. Like an old friend, the spark of playful curiosity quickly dissolved any fear as my attention shifted to the subtle outline in the sand of an enormous manta ray about 30 feet below.
Moments later, I realized the life jacket was now in my way and I did not need it anymore. Along with all my tension and stress, the life jacket trailed behind in the wake of my flippers. The warm Caribbean waters started to wash away the heaviness, worry, fear and grief I had been holding onto for way too long. When I emerged to the surface, I realized how wonderful it felt to be here again. Not only was it fantastic to be here at St. George's Caye in Belize, but it was also amazing to feel once again inspired, hopeful, and alive.
Now more than ever, taking the time to heal and recover is imperative to the health and well-being of humanity. I am so glad I grabbed the life jacket and jumped in! It is one of many steps taken to shift out of the survival mode and onto the road of re-emerging into life. Grab your life jacket and let's go!
Marni offers a unique coaching experience for whole-self wellness by deepening the connection to yourself and the world around you. When not working with clients or small groups, she loves to facilitate retreats in the warm waters of Belize (February 2022) (www.coalescediscovery.com).She also founded (www.sunriseretreat.org) to offer healing retreats and resources for widows in Idaho. ©2021 Coalesce Discovery, LLC. All Rights Reserved
St. George's Caye Resort is located 7 miles by boat transfer from the Belize City marina.
We look forward to seeing you in the sun!
Questions? Call, text or WhatsApp us today +1- 507.380.9344 or call Toll Free 1-800-813-8498
Email our friendly reservations specialist at This email address is being protected from spambots. You need JavaScript enabled to view it.
Stay Informed
When you subscribe to the blog, we will send you an e-mail when there are new updates on the site so you wouldn't miss them.