3 minutes reading time
(536 words)
Invent Your Adventure! - Top 5 Activities Without Leaving the Island!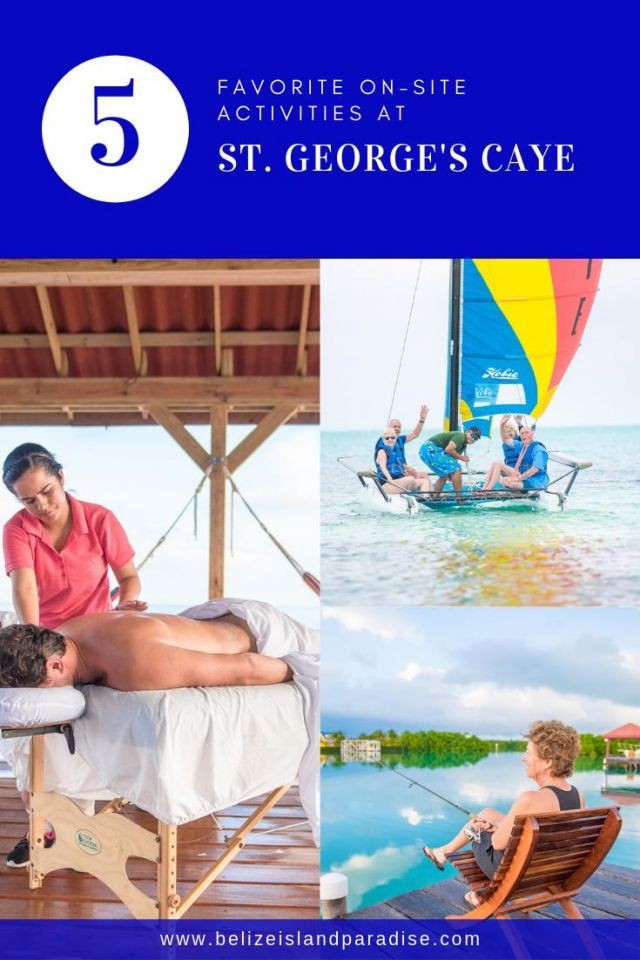 What type of traveler are you? Do you enjoy a vacation full of adventure, or something a bit more relaxing? Maybe you want the best of both worlds and do a little of each. No matter what type of travel is your favorite, we've got you covered here at St. George's Caye!
In addition to our off-site Belize adventures, we offer many activities on-site for guests to enjoy. Each guest can truly personalize his or her vacation in paradise! Here are five of our favorite on-site activities (in no particular order) at St. George's.
Hammock Time
Our guests would agree with us that hammock time is an approved activity here at St. George's. Experience complete relaxation by spending your afternoon napping, reading, or sipping a cocktail in one of our many hammocks around the resort.
Set Sail
Ready for a little adventure? Sail the open sea with one of our three Hobie Cat sailboats! If it's your first time using a sailboat, our staff would be happy to show you the ropes and you'll be sailing in no time!
Relax and Unwind
Let our island spa staff pamper you in paradise! Refresh your manicure, enjoy a hot stone massage, or go all out with our head-to-toe pampering package. Whatever you choose, we can guarantee you'll feel refreshed and rejuvenated afterward. Check out all of our spa offerings here.
Cast a Line
Check out free fishing gear with a staff member (or bring your own gear) and try to hook a Snapper, Grouper, or Snook off our docks! Our staff is also happy to help you find bait and the perfect location to throw out your line. Pro Tip: June, July, and August are the best fishing months in Belize. If you want to take your fishing to the next level, ask a staff member about our charter fishing trips!
​Snorkeling
Grab your complimentary snorkel gear and explore the underwater world right off the beach! It's the perfect activity if you want to stay close to shore and explore on your own time. Pro tip: there are always fish hanging around the docks!
---
​St. George's Caye Resort is found 7-miles from main-land Belize City. Complimentary transfers are made by boat and once you have landed at BZE International Airport, your valet will have you on the island in just about 30 minutes. Offering an array of adventure, romance, relaxation and SCUBA excursions, this resort is acclaimed for pristine reefs, seclusion and the ability to do as much or as little as one wishes.
Email for more information at This email address is being protected from spambots. You need JavaScript enabled to view it. or call our friendly US based reservation line at +1-507-380-9344 or toll free at 1-800-814-8493. See all of the beautiful information atwww.belizeislandparadise.com
Stay Informed
When you subscribe to the blog, we will send you an e-mail when there are new updates on the site so you wouldn't miss them.