3 minutes reading time
(693 words)
Your "Unbelizable" Girls Getaway!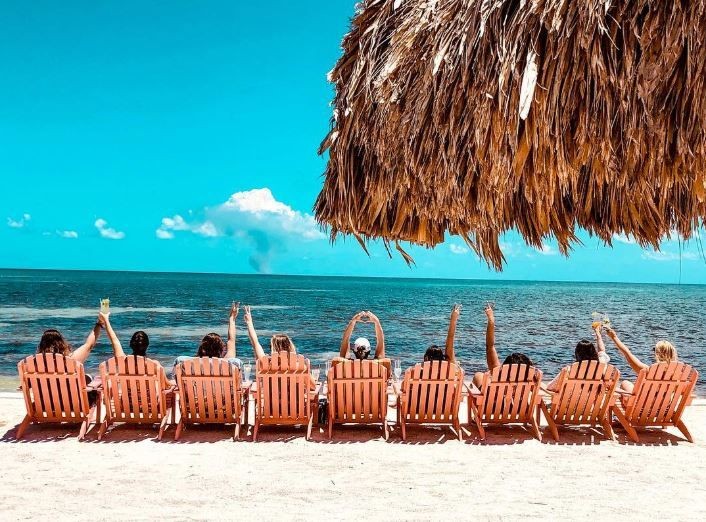 Every lady needs a girl's weekend. With how crazy life is, quality time with friends doesn't happen as often as we'd like. Time with friends is essential for the soul just like sunshine, rest, and laughter. This time is scientifically proven to be good for you so grab your gals and pencil it in!

Getting away with the girls is fun, but did you know it's also great for your health and well-being? It has been proven that strong friendships can extend life expectancy and lower chances of heart disease. In 2016, researchers found evidence that spending time with friends can increase the production of Oxycontin, the hormone our bodies make when we're happy!
​Set a date: We know it can be difficult to work around everyone's schedules, which is why it's important to plan in advance (a year ahead of time is not out of the question!) and get a date set on the calendar. 4-5 nights with travel included seems to be the perfect amount of time for a getaway with the girls. It's not too short and not so long that it's hard for friends to commit to the trip.
​Choose a destination: Choosing your destination is the most exciting piece of planning, as it should be! There are a few things to consider during this phase of planning. Do you want to completely relax and spend your days lounging and chatting with friends, or are you looking for a little adventure? What accommodations are important? Do you want to spend time in a popular tourist destination, or does a place off the beaten path sound better?
"While we all love our families, it has been proven that friendship can extend life expectancy, lower chances of heart disease, and even help us better tolerate pain. Really!" Read more... - Travel & Leisure
​Visit us at St. George's Caye:
We offer the luxury of both relaxation and adventure, which allows you to personalize your stay with us. Spend time discovering the underwater life off the dock by grabbing some complimentary snorkel gear and exploring for an afternoon. Indulge and unwind with a massage or manicure from our amazing island spa team. Or schedule an island excursion to San Pedro! This excursion is the perfect mix- a little bit of snorkeling or diving, lunch, and an afternoon of shopping and exploring. Even "hammock time" is an approved activity here on the island, so do as much of that as you'd like!
Want us to do the planning? Book our Girls Getaway package and your activities will be set! The Girls Getaway package includes a manicure, pedicure, one-hour Swedish massage, as well as a guided snorkel trip over our amazing coral reef! It's the ultimate combination of relaxation and adventure.
If you're from the United States, Belize is an easy international destination to travel to, as there are many direct flights from the U.S., English is the official language, and U.S. currency is widely accepted. Just grab your passport, pack your bags, and you and your girls are off to an epic getaway!
St. George's Caye Resort is found 7-miles from main-land Belize City. Complimentary transfers are made by boat and once you have landed at BZE International Airport, your valet will have you on the island in just about 30 minutes. Offering an array of adventure, romance, relaxation and SCUBA excursions, this resort is acclaimed for pristine reefs, seclusion and the ability to do as much or as little as one wishes.
Email for more information at This email address is being protected from spambots. You need JavaScript enabled to view it. or call our friendly US based reservation line at +1-507-380-9344 or toll free at 1-800-814-8493. See all of the beautiful information at www.belizeislandparadise.com
Stay Informed
When you subscribe to the blog, we will send you an e-mail when there are new updates on the site so you wouldn't miss them.