4 minutes reading time
(882 words)
"Grand Slam" Game Fishing in Belize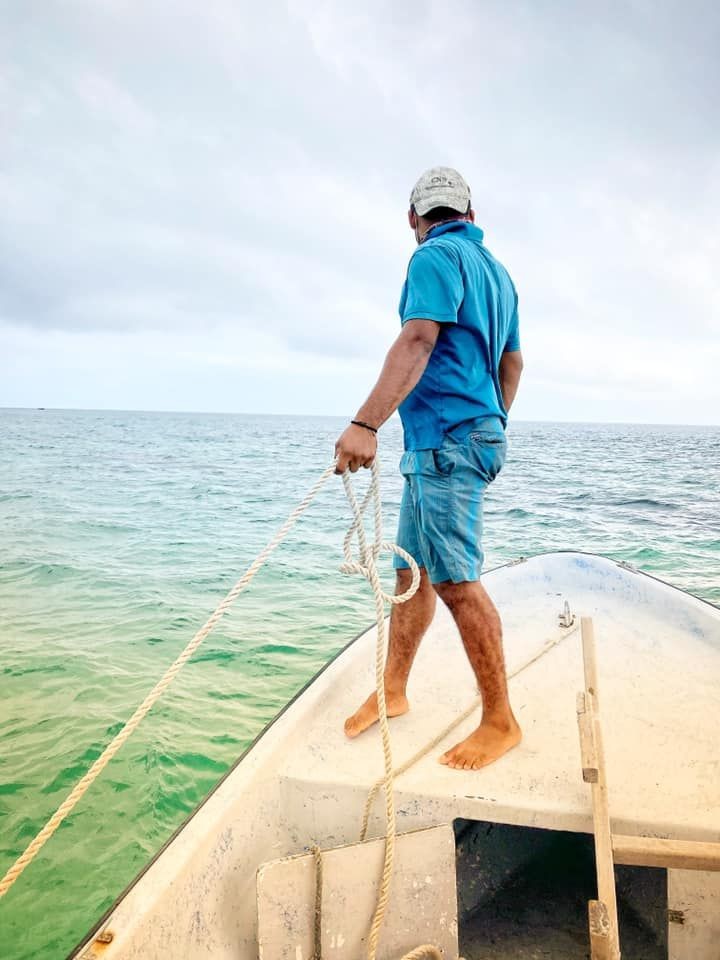 Belize has world-class game fishing that is, in some cases only recently being discovered by anglers. This is a benefit, because the area is not over-fished, and still serves as a pristine opportunity to wrestle with some of the largest game fish in the world.
Located in Northern Central America, this English-speaking country is home to UNESCO's World Heritage Site the Barrier Reef – the largest in the Western Hemisphere and home for unmatched game fishing. This coastal country is an easy and sometimes direct hop from the United States and Canada. Belize is also home to hundreds of islands (Cayes "Keys") making for a variety of sites for lodging between fishing excursions.
Catching the BIG ONE
In Belize, a sport fisherman can pursue their dream of a "Grand Slam" of bonefish, tarpon, and permit in the same trip. We're fortunate to be located adjacent to the flats, close to the reef, and a short ride from the Belize River, so guests can enjoy a variety of fishing on their Caribbean vacation.

Cast the lagoons for snook or ladyfish, or troll the reef for kingfish or barracuda. Jig the bottom for snapper and grouper. Or meander up the Belize River. Whatever you choose, it is best to rely on guides for the best and safest fishing experiences. If you choose to stay with us at St. George's Caye, our professional guides are here to make your Belize fishing experience memorable.
TARPON
Did you know the shallow waters of Belize contain the only classic tarpon flats outside of Florida? Our flats are renowned for the opportunity to site cast to tarpon 12 months of the year. Tarpon numbers begin to increase in April and May and drop off in September or October, with the peak months being June, July, and August. Some resident tarpon stay throughout the year. Moon phases tend to affect tarpon more than other fish so the guideline is to fish around the new moon. But remember, this is only a guideline and plenty of folks catch tarpon at other times too.
CHARTER TRIPS
Whether you're a novice angler or an avid fly fisherman, you'll have an unrivaled experience on the water with our guides. You may add a fishing trip to any stay (we recommend reserving several weeks ahead). We also have Fishing Packages combining your room and meals with multiple days of fishing.
Fishing trips include the use of guide's gear, completely outfitted, as well as bait and all assistance needed. (Feel free to bring your own gear, if you prefer.)
Beverages included; lunch provided for full-day trips. Cleaning, preparation, and cooking of fish – no charge. (Permit, bonefish, and tarpon are always released; some snook, snapper, barracuda, and grouper may be kept for the table.)
BELIZE PERMIT
Permit are found on what is called "the bonefish flats" and on many of the tarpon flats as well. They are found in large schools and range from four to thirty pounds, with the majority in the range of eight to ten pounds. Jack crevalle, barracuda, cobia, and snook are also found on the flats and in the mangrove lagoons. Permit fishing tends to be more predictable when the prevailing winds are most consistent - generally in the winter, spring, and summer.
BONEFISH
The bonefish in the waters of Belize run from two to five pounds and are plentiful year-round. Most fly fishing for bonefish is done from the bow of the boat, but there are flats that may be waded as well.
GRAND SLAM SEASON
June, July, and August are considered the best overall fishing months because there are good numbers of permit, bonefish, and tarpon available. (Yes, summer! All rooms have a/c, the island has a nearly constant breeze, and airfares are the lowest all year.)
FISHING OFF THE DOCKS

Casting a line off our docks is a complimentary option – bring your own rod and reel, or check out free fishing gear with a member of our staff. We can also help with bait and finding the best spots to hook a snapper, grouper, or snook. (Please keep in mind finding adequate baitfish is dependent on tides and weather conditions.)
St. George's Caye Resort is found 7-miles from mainland Belize City. Complimentary transfers are made by boat and once you have landed at BZE International Airport, your valet will have you on the island in just about 30 minutes. Offering an array of adventure, romance, relaxation, and SCUBA excursions, this resort is acclaimed for pristine reefs, seclusion, and the ability to do as much or as little as one wishes.
Email for more information at This email address is being protected from spambots. You need JavaScript enabled to view it. or call our friendly US-based reservation line at +1-507-380-9344 or toll-free at 1-800-814-8493. See all of the beautiful information at www.belizeislandparadise.com
Stay Informed
When you subscribe to the blog, we will send you an e-mail when there are new updates on the site so you wouldn't miss them.