4 minutes reading time
(795 words)
Family Fun in the Sun - Your Perfect Week at St. George's Caye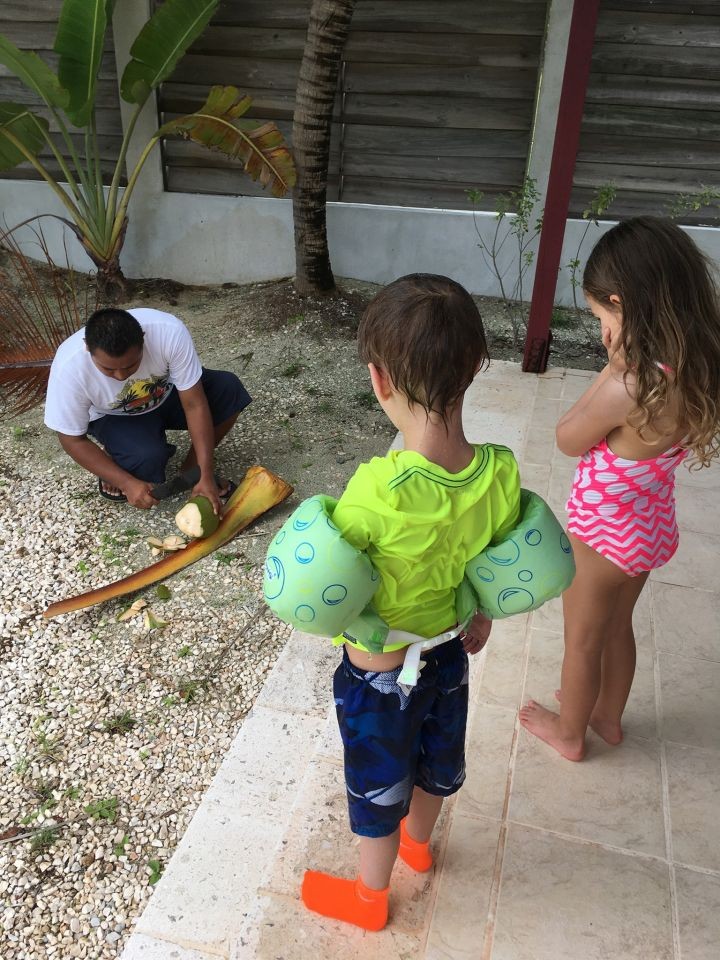 As a tradition in the fall, we offer the unique opportunity for families with children of all ages to come to the resort. Beginning with our first Family Fun in the Sun Week - It was a bit of a test pilot in deciding if we were going to offer this annually. And... the week was a wild success!
The resort has always been adults only, and the grounds are rustic, natural, and not always "baby proof", but the perfection of nature captured the attention of the children and sent them into awe! Families that attended are still talking about their experiences to this day.
So, we did decide to open the island to families once again, and we are truly looking forward to the return of little laughter and wide eyes at this incredible paradise! Our next family week will be October 17th - 24th, 2022. You can reserve directly by calling, texting, or WhatsApp at +1-507-380-9344. You can also email This email address is being protected from spambots. You need JavaScript enabled to view it. and we would love to welcome you and your loved ones!
Scroll to read about one of the owner's experiences with her twin 5-year-olds at the resort.

"Last October we were able to take the kiddos (who just turned 5 at the time) to Belize. We have been on enough trips to know that typical vacations + kids does not = relaxation.

However, Belize was different! The kids still talk about it with true joy and it is our absolute favorite family vacation of all time - authentic and natural experiences abound and true relaxation. For the first time since the kids were born my brain and body actually S..L..O..W..E..D down for days on end.

Everything was just SIMPLE - no meal prep, no TV, limited internet, no traffic, no crowds, no rental car or taxi, no cleaning, no shows or tickets, no WORRIES... the pace was incredible and exactly what we all needed. We appeased our sense of adventure and play all while achieving complete internal relaxation.

Since we are an adults-only resort, even as owners, we don't have the luxury of bringing the kids to the resort any time that we'd like. When the stars aligned and we were able to bring the kids, we felt the magic that the island held for families and immediately started dreaming of how to offer this as an option for other families.

We will always be an adult-only resort but are beyond excited to establish a "family week" so we can share this incredible experience with others who want to embrace a trip like no other with their families." ❤️

Kristi - Co-owner of St. George's Caye Resort - Belize
Come and join us with your whole family (all ages) for a week of sunshine and memories. October 17th - 24th, 2022 - Call, text, or WhatsApp +1-507-380-9344. You can also email This email address is being protected from spambots. You need JavaScript enabled to view it. and we would love to welcome you and your loved ones!
We hope you can come away for pampering in paradise and a perspective that is as refreshing as our clear blue waters!

INQUIRE FOR YOUR CUSTOM VACATION
St. George's Caye Resort is found 7-miles from main-land Belize City. Transfers are made by boat and once you have landed at BZE International Airport, your valet will have you on the island's sandy shores in under 30 minutes. Offering an array of adventure, romance, relaxation, and SCUBA excursions, this resort is acclaimed for pristine reefs, seclusion, and the ability to do as much or as little as one wishes.
Email for more information at This email address is being protected from spambots. You need JavaScript enabled to view it. or call our friendly US-based reservation line at +1-507-380-9344 or toll-free at 1-800-814-8493. See all of the beautiful information at www.belizeislandparadise.com.
Stay Informed
When you subscribe to the blog, we will send you an e-mail when there are new updates on the site so you wouldn't miss them.