WHAT YOU'LL SEE DIVING IN BELIZE
Snapper:  many varieties, including:  Gray, Dog, Mahogany, and Yellowtail
Parrotfish:  Stoplight (pictured below), Rainbow and Queen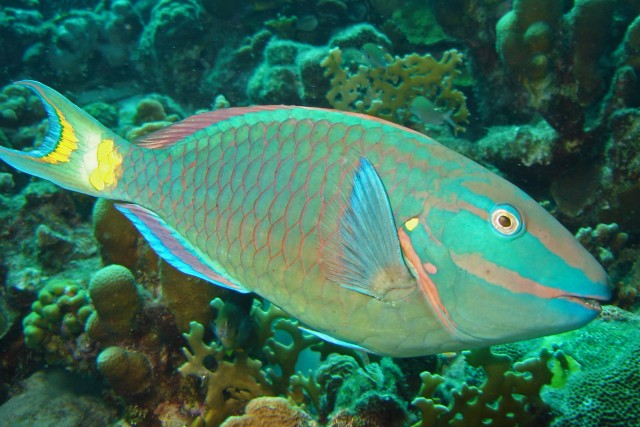 Grouper:  Nassau and Black 
Angel fish:  Gray, French and Queen
Needlefish
Puffer fishe
Green moray eel and Spotted moray eel
Nurse sharks
On the Belize reef you will also see Barracuda, Snook, Squirrelfish, Wrasse, Horse-eye jacks, Belize permit, Tarpon, Bonefish, Fairy Basslet, Spotted eagle ray, and Stingrays.  (We also have a beautiful, but invasive species named the Lion fish.  We removed over 1,000 from the reef in October 2016 during our Lion Fish Dive Tournament).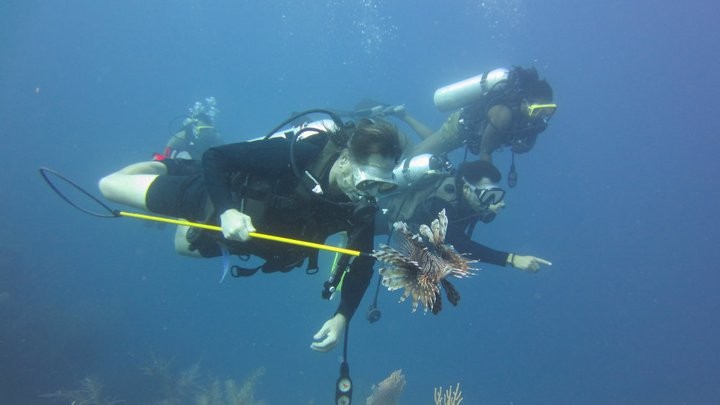 Pictured above: Resort Manager Barry spears a lionfish on a dive near St. George's Caye
Our warm Caribbean waters also have Squid, Conch, Octopus (more often seen on Night Dives!), Dolphins, and the ever-popular Green sea turtles and Hawksbill turtles (so cute!!).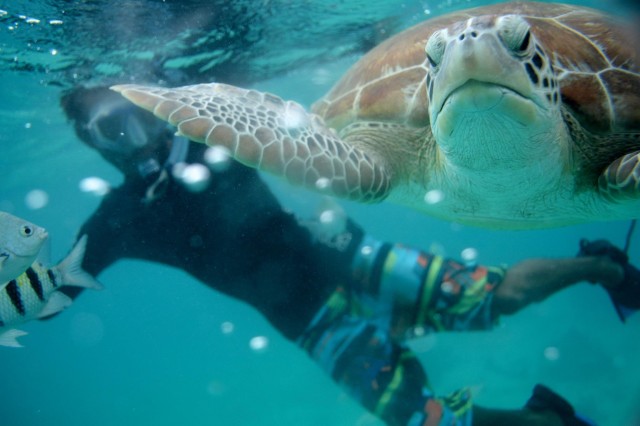 Pictured above: Snorkel guide and sea turtle near Hol Chan Marine Reserve
In the waters of Belize, you can also see a variety of Jellyfish, Blue Tang, Lobster (if you enjoy eating lobster, the season is mid-June to mid-February), and a variety of coral:  Stag Horn coral, Brain coral, Elk Horn coral, plus many more. 
Want to know more?  Here's a fantastic website with "dive reports" on the fish species seen while diving in Belize.
Have questions about diving in Belize?
Contact us by This email address is being protected from spambots. You need JavaScript enabled to view it. or phone (800-813-8498) and we're happy to share more details on dive vacations in Belize and will help you plan the perfect trip!