2 minutes reading time
(490 words)
Lionfish Hunting in Belize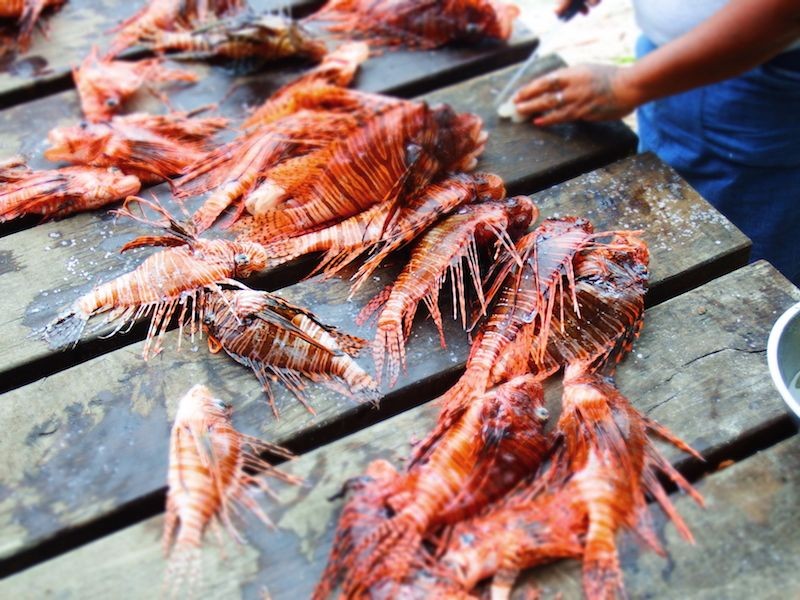 Imagine dipping into the Caribbean Sea and exploring the Barrier Reef just off the coast of Belize. You'll encounter many beautiful and colorful fish, coral, and sea turtles, and you may even swim alongside a manatee or dolphin.

This is an incredible season in Belize! Returning and new guests are making their reservations for diving and fishing this coming spring. Belize hosts thousands of sea creatures and some of the best and most abundant sea, reef, and river fishing!

One of the most exotic-looking species of fish you will encounter on a deeper dive is the Lionfish. Lionfish are beautiful (and tasty!) but are also an invasive species to the Caribbean with no known predators and a danger to the health of the coral reef ecosystem.

Since it's impossible to eliminate the lion fish, our goal is to manage the population by spearfishing, netting, and line fishing them and enjoying the delicious white meat at mealtime.
To do our part to help control the population around Belize, our dive professionals often take spear guns out with them. Experienced divers can take advantage of this unique and fun opportunity to hunt lionfish and help the reef alongside our dive professionals! This specialty dive is offered as a local two tank dive or a one tank dive at the reef. No matter which you choose, the thrill and excitement of the hunt will be a memory you'll carry with you long after you've left the island.
With a little luck, you might bring back enough lion fish for the chef to prepare appetizers for everyone! Yes, although they have venomous fins, lion fish are a delicate and delicious white meat. There are many tasty ways to prepare lionfish, such as ceviche, lionfish fingers, whole fried lionfish, lionfish fillet and lionfish fishcakes.

"We caught 16 lionfish between three of us with Hawaiian slingshots when we were diving and shared that with the group. They grilled them up and it was one of the best things there to eat."
We hope you'll join us for this thrilling specialty dive to help protect our local reef during your next trip to the island!
St. George's Caye Resort is found 7-miles from main-land Belize City. Transfers are made by boat and once you have landed at BZE International Airport, your valet will have you on the island's sandy shores in under 30 minutes. Offering an array of adventure, romance, relaxation and SCUBA excursions, this resort is acclaimed for pristine reefs, seclusion and the ability to do as much or as little as one wishes.
Email for more information at This email address is being protected from spambots. You need JavaScript enabled to view it. or call our friendly US based reservation line at +1-507-380-9344 or toll free at 1-800-814-8493. See all of the beautiful information at www.belizeislandparadise.com
Stay Informed
When you subscribe to the blog, we will send you an e-mail when there are new updates on the site so you wouldn't miss them.