2 minutes reading time
(483 words)
Top 3 Ways to Start Your Week - In Belize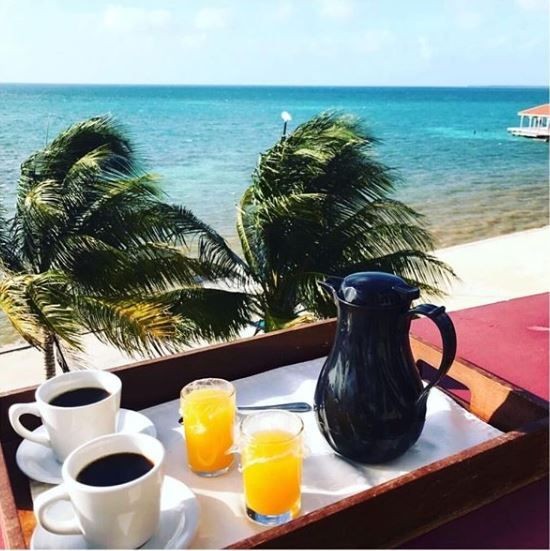 Yep, it's Monday again. Like clockwork, that feeling of "Got to get it all done!" rushes in. Imagine if your Monday could look like the picture above in just a few weeks. We will bring you fresh coffee or tea and juice right to your cabana door. You take your time enjoying the sunrise, sea breezes, and maybe even a morning meditation, just long enough to realize you are getting hungry. Then, off to a fresh breakfast, where you find a made-to-order assortment of authentic Belizean favorites, like Fry Jacks, or maybe sweet American favorites like french toast, paired with tropical fresh fruits.
This is just one of the top three ways to start your week right!
We've already hinted at one of the best ways to start your week while on the island at St. George's Caye... By doing nothing at all. Science has shown that sitting and doing "nothing" is actually doing something for you.
That's right, according to a new study published in the July 22 edition of the Journal of Experimental Psychology: General, we can improve our lives by carving out time to spend totally distraction-free. (That means no smartphone, computer, or TV screen.) According to this new study, people who take time just to sit and do nothing enjoy it much more than they initially predicted—and might also be better at solving problems and at thinking more creatively.
Head out for a swim. Morning is the perfect time to get some exercise, get invigorated, and float through warm Caribbean waters. The area around the island is teeming with vibrant fish and the coral of the reef. It is not only a feast for the eyes, you may even find a swimming buddy, turtle or pod of dolphins!
Here's a bonus (because there are so many things to do right on the island). Set out to explore the waters with our complimentary selection of watersports. From kayaks to stand up paddleboards (SUP), to even a Hobbie Cat tour, you can take in the warm morning sun, and see the sites around the island. Guests have reported seeing dolphins, and even manatees.
St. George's Caye Resort is found 7-miles from main-land Belize City. Transfers are made by boat and once you have landed at BZE International Airport, your valet will have you on the island's sandy shores in under 30 minutes. Offering an array of adventure, romance, relaxation and SCUBA excursions, this resort is acclaimed for pristine reefs, seclusion and the ability to do as much or as little as one wishes.

Email for more information at This email address is being protected from spambots. You need JavaScript enabled to view it. or call our friendly US based reservation line at +1-507-380-9344 or toll free at 1-800-814-8493. See all of the beautiful information at www.belizeislandparadise.com
Stay Informed
When you subscribe to the blog, we will send you an e-mail when there are new updates on the site so you wouldn't miss them.