4 minutes reading time
(715 words)
St. George's Caye Resort - A Divers "Bucket List" Destination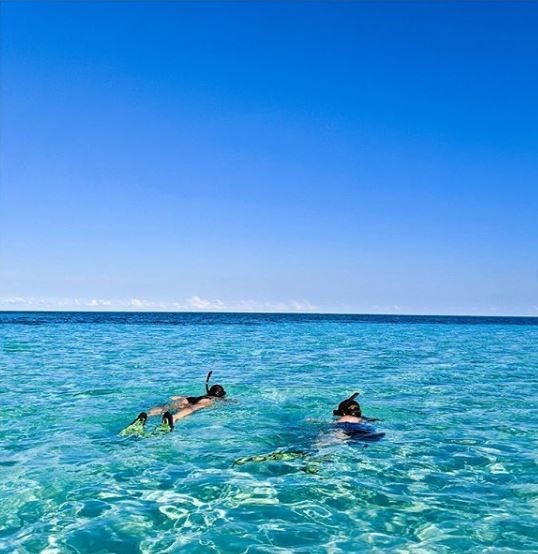 The undeniable beauty of Turneffe Atoll and the world-renowned Great Blue Hole are just two of the many reasons you will want to add St. George's Caye Resort to your list of diving destination "must-dos". What will keep you coming back is more of a hidden treasure.
St. George's Caye Resort - A World Class Dive Experience
As soon as you meet our divemasters and dive shop manager, you will quickly see why the diving team at St. George's Caye Resort always receives rave reviews. This level of service, knowledge, and easy access to your dive sites, paired with the unique seascape makes for the perfect trip.
Underwater Safari Time
If you would like to help fend off the invasive lionfish species you are welcome to join in some lionfish hunting. Never tried it? Have no fear, the expert team will show you how to safely and successfully capture these beautiful but unwelcome creatures.
Sea to Table and Farm To Table
Our esteemed chefs love to prepare your catch of the day. Bring back as many of these little buggers as you can and we would be happy to prepare them for your meal or appetizer. Many divers bring back enough and wish to share with the rest of our guests which is absolutely wonderful and a 100% resort-approved practice. This interestingly decorated fish tastes better than it looks and is perfectly paired with our farm-to-table recipes!
Coming with a diver, but not looking to dive? No problem, adventure, and relaxation still await!
All guests enjoy incredible experiences. The resort features the best excursion guide in-country and will allow you the opportunity to take your time and truly immerse yourself in the amazing culture.
During any down time on the island St. George's Caye Resort provides a variety of unique experiences from ultimate jungle adventure to complete relaxation. There is plenty of opportunity to take advantage of the complimentary kayaks, SUPs, hobie cat sail boats, fishing off the docks, and hammocks all around the property. Many find the perfect down time at the tropical island spa.

Incredible Foodie Finds – Pampering & Provisions
And then there's the food prepared by the incredible professional chefs – something you have to experience to understand. All special menu needs are accommodated and the fare is fresh, local and authentic.
Easy Travel – Save Time – $ave Money

The unique location of this dive resort is not only incredible because of its proximity to the reef but also because of its proximity to Belize City. Within minutes of passing through customs, you will be greeted and within about an hour you will find yourself settled on the caye ready to meet with the dive masters and plan your dives. Our easy by-boat transfers save you a half-day travel on arrival and another half-day travel on departure will give you that extra time you crave from your getaway and will get you into the water that much faster!
With complimentary transfers, guests save more than $150 per person compared to most island resorts in Belize. Whether time or money is more valuable to you, either way you are covered!
Find your perfect trip at www.belizeislandparadise.com for incredible diving specials and use promo code #DIVE2019 when reserving your trip.
St. George's Caye Resort is located 7 miles by boat transfer from the Belize City marina.
We look forward to seeing you in the sun!
Questions? Call, text or WhatsApp us today +1- 507.380.9344 or call Toll Free 1-800-813-8498
Email our friendly reservations specialist at This email address is being protected from spambots. You need JavaScript enabled to view it.
---
Stay Informed
When you subscribe to the blog, we will send you an e-mail when there are new updates on the site so you wouldn't miss them.