4 minutes reading time
(734 words)
Top 10 Reasons to Travel To Belize this Fall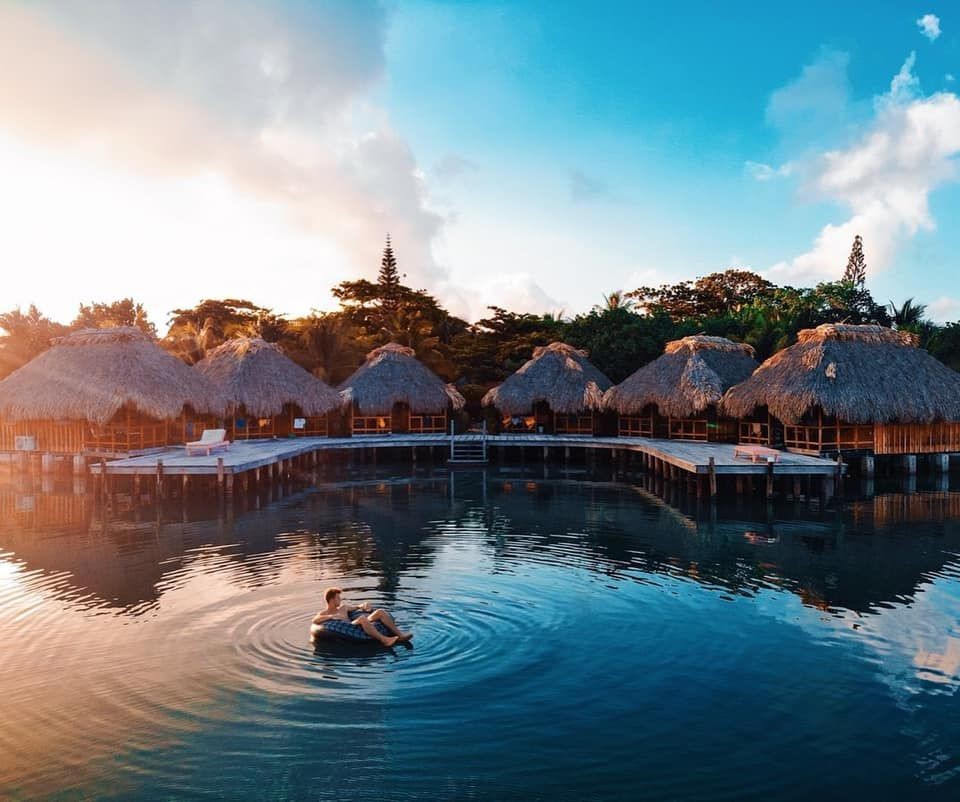 As if anyone really needs a reason to travel to sunny Belize...
B
ut if you are on the edge of choosing our quaint and sunny little country, these TOP TENS may just help to break the tie! As much of the Northern Hemisphere is falling into Autumn, we offer an endless summer... endless epic sunrises, and sunsets, and service unparalleled by others! We look forward to seeing you in the sun!
1. Need we point out the proximity to the Caribbean Sea? St. George's Caye is only 7 miles, over clear waters, from the mainland, so we literally offer 360° views of the incredible, teal-blue Caribbean Sea. This gives you the chance to eliminate almost a WHOLE DAY of travel while coming and going. Plus, our transfers are complimentary, so you save big money too!
2. We take you there! When you come as a guest of other locations in Belize, you are on your own to navigate, of course, you can do that while at St. George's too, but our specialty is knowing where to take you for the most incredible, authentic Belizean experience. You will be safe, certain, and sure to experience the best of Belize!
3. No language lessons needed. Most Belize citizens are tri-lingual, with English being the most often-spoken. There is a unique dialect here so you will want to listen closely, but it is the most fantastic attribute to know that when you come to our little country, we speak your language!
4. Getting around is a breeze. With tours leaving the island every day, we make sure you have the chance to see the sights, taste the tropics and take in the culture. If staying put is your preference, we do consider relaxation an "Island Approved Activity"
5. Take a holiday from crowds. As a secluded island, we are the only public business on the island. The rest of the island is populated by vacation homes that are sparsely placed on acres of property. You will feel like you have your own private island. Who can say "bucket list checked!"?
6. Belize is safe and easy to get to from many hubs. With our close attention to cleanliness and care for our guests, we ensure your most pleasant travel possible. There are direct flights from many hubs and some airline tickets are at an all-time low.
7. Leave your calculator home. The U.S.-to-Belize dollar conversion rate is $1 USD to $2 BZD, but since most businesses take U.S. currency, you might not have to remember it!
8. Your "to do" list could get longer in 2021. Archaeologists are always undertaking new Mayan excavation sites and if you have not visited all of Belize's seven World Heritage sites, make a decision to complete the list.
9. Expect to smile a lot. If the world ranked nations by the number of friendly smiles, spontaneous greetings and offers of help, there's no question that Belize would be at the top of the list in 2021 and beyond. Our friendly staff is there to meet and even exceed your every expectation. Be prepared to be WOWED!
10. Nobody will judge you! Do exactly as you please here without making apologies or excuses to anyone (unless you are not traveling alone!). Set a new hammock time record… Eat a as much of a dish that you love and don't think twice – then even eat desert! This is your time to indulge!
St. George's Caye Resort is located 7 miles by boat transfer from the Belize City marina. We are taking reservations for summer and fall, with our worry-free travel policies. We are filling fast so book soon! We look forward to seeing you in the sun!
Questions? Contact us today +1- 507.380.9344 or Toll Free 1-800-813-8498
Email our friendly reservations specialist at This email address is being protected from spambots. You need JavaScript enabled to view it.
Or Click Here to Reserve Online
What will you check off of your bucket list during your trip to St. George's Caye Resort?
Stay Informed
When you subscribe to the blog, we will send you an e-mail when there are new updates on the site so you wouldn't miss them.