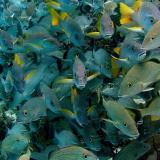 We love looking at gorgeous wedding and honeymoon photos. Don't you?
Here we've rounded up our team's favorite photos of destination weddings and honeymoons at St. George's Caye Resort in Belize, our little island paradise. If you're looking for inspiration for a dream tropical wedding or honeymoon, you've come to the right place!
The jaw-dropping photo at the top of this post was taken at a wedding earlier this year by Conch Creative, a local Belize photography company that does amazing work. The clouds created a dramatic backdrop that looks like a movie set. Wow! 
3 of Our Favorite Honeymoon Photos: