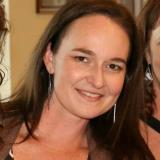 In a time when our world often seems continuously chaotic, unfair, mean and full of bad news - I'd like to offer you some hope and faith in humanity.
Specifically, I'd like to introduce you to Carlos Reyes and his family. If they don't give you a glimmer of hope for humans - I don't know what will! :) Meet St. George's Caye Resort Team Leader, Carlos Reyes. A 20 year veteran of Caye living Carlos knows every square inch of St. George's and is an integral part of the Resort's success. Behind the scenes he is often unseen and unheard - but we cannot function without him!
At four years old Carlos was brought to Belize by his parents from civil war torn El Salvador. They were immigrants fleeing a less than ideal situation in their home country. Actually it was a scary place full of violence, gun fights and fear. Sound like a familiar recent story you might have heard on the news? Well, it is not too far off.
With not much other than their family and a few backpacks Carlos, his three brothers and sisters and parents were offered hope in a community named Valley of Peace; a village in Belize set up just for El Salvadorian immigrants. His family knew how to farm and live off the land and pretty much do any job they could to make a living. His parents went on to have seven more children - thriving in a peaceful, humble atmosphere.