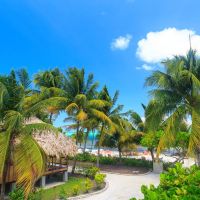 Belize is quickly becoming an popular tourist destination due to it's endless summer weather, friendly locals, ease of travel from the United States, and the fantastic variety of land activities and watersports- especially the scuba diving and snorkeling!
Divers choose Belize because it's home to the second largest barrier reef and bucket-list dive sites such as Lighthouse Reef, Turneffe, Great Blue Hole, and Hol Chan Marine Reserve. The diving here is out of this world!
But even the most avid diver needs surface time. Belize is full of places to explore and see, but there are also plenty of places to relax when you need a little downtime. So, what else is there to do in Belize besides diving? We've compiled a list for you!
1. Visit Lamanai Maya ruins. This site, situated along the New River Lagoon, features monumental architecture of temples and palaces dating from the Classic and Pre-Classic Periods.
2. Relax with a hot stone massage at our island spa. The deep penetrating heat of the stones will melt your tension away.
3. Whiz through the jungle canopy on a zip-line tour. Zip past a stunning display of tropical flora and fauna. Daring participants will rappel to the rainforest floor from the final platform for a thrilling one-of-a-kind jungle adventure.