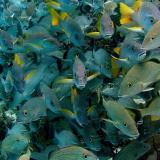 We love seeing Belize in the travel news because that means more people will discover this awesome country and want to visit! So we were pleased to see that Belize was selected as a "top adventure tour destination" to visit in 2017 by Stride Travel, a large search and review site for tours and adventure experiences.
You can read the press release here on Belize Breaking News.
EXPERIENCE THE BEST BELIZE ADVENTURES WITH A "REEF TO RAINFOREST" PACKAGE
Many travelers considering Belize want to spend time both in the jungle and on the beach and have a hard time deciding. We can help!
At St. George's Caye we offer four jungle/beach all-inclusive packages to choose from, so you can spend time on the mainland and on our island and have all of your meals and transportation included. Easy! We work with two different jungle lodges, each offering a different experience in a different part of the country, depending on your interests.
Packages with Mariposa Jungle Lodge & Tours
Located in the heart of Maya country in the Cayo district on the West side of Belize (near Guatemala), Mariposa Jungle Lodge offers a luxury jungle experience with 6 beautiful cabanas and a main lodge for meals. They have a swimming pool, jungle birdwatching tower, and hiking trails onsite. Plus a large variety of adventure, nature, and cultural tours led by their professional in-house tour guides of Mayan descent.