3 minutes reading time
(576 words)
"Prana" - Wellness in Paradise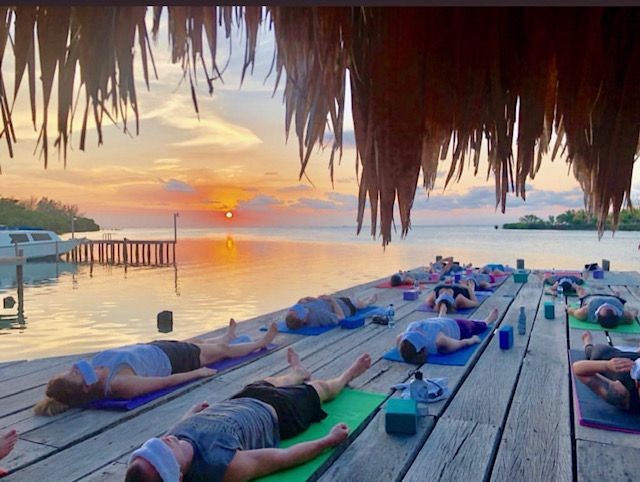 If you have seen the word "Prana" and wondered what it meant, it is essentially "life force". Found through meditation and exercises like yoga and martial arts, this practice incorporates natural movements to rejuvenate the body and soul. The benefits of practicing this and other types of wellness in nature are unending. Scientific studies indicate that time spent in nature is not only good for stress relief, it is a way to be healthier overall.
Vacation can simply be a chance to get away from the daily grind but more and more, traveling is a way to enrich one's life and reconnect with the world around you. Here at St. George's we offer many opportunities to do just that.
Yoga or meditate on our sunrise dock
Take time to reflect and reconnect with yourself while being surrounded by the breathtaking views and fresh, oxygen rich breezes of the Caribbean sea.
Hike nature trails at Blue Hole National Park
Explore outside the island by taking an excursion to Blue Hole National park. Get up close and personal with the Belize jungle environment while hiking the nature trails and taking in the breathtaking views. Explore St. Herman's Cave, and then take a dip in the Inland Blue Hole- a sapphire-colored sinkhole surrounded by jungle vegetation and limestone rock walls, forming a 25-foot deep swimming hole.
Healthy farm-to-table meals

We'll take care of serving you healthy and delicious food and our chef is happy to work within your dietary preferences. Fresh fish, fruits, vegetables, and juices are sourced locally and are served with pride at every meal!
Unwind with a relaxing massage at our tropical island spa
Our island spa is the place to be when you're ready to let all your cares melt away. Relaxing massages, manicures, and head-to-toe pampering await you in our cozy sanctuary dedicated to the ultimate pampering experience.
Fitter in the future
We have hosted many wellness groups ranging from groups with an adventure-wellness focus, to yoga groups totaling 30+ people, and we hope to offer guided wellness events in the future.
We will make mention of this offering once it is unveiled, but in the meantime, you are more than welcome to bring your group to the island for the most incredible backdrop for your wellness event.
- Healthy travels to you and - Namaste
St. George's Caye Resort is located 7 miles by boat transfer from the Belize City marina. We look forward to seeing you in the sun!
Questions? Contact us today +1- 507.380.9344 or Toll Free 1-800-813-8498
Email our friendly reservations specialist, Lisa at This email address is being protected from spambots. You need JavaScript enabled to view it.
​
Stay Informed
When you subscribe to the blog, we will send you an e-mail when there are new updates on the site so you wouldn't miss them.