4 minutes reading time
(773 words)
Your Secluded Island Paradise - Belize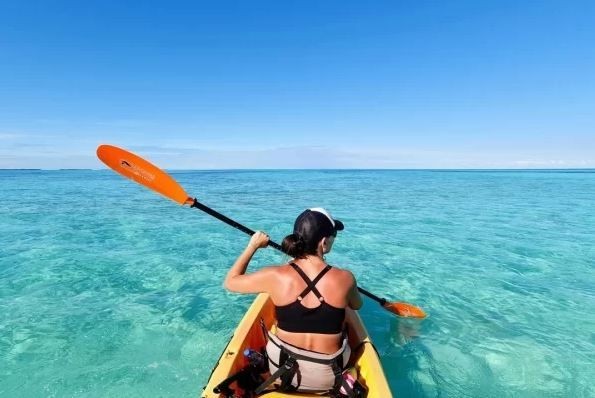 Each week guest come and go. Each of them having a different set of goals for their stay with us. Most are surprised at how much there is to do, right here on the island. We wanted to feature all of the complimentary activities there are right here at the caye. We hope you can read through this and enjoy the beautiful scenery while dreaming of setting sail or taking a dip in the sea.
Kayak: Take off right from our swimming beach and easily paddle the leeward side of the caye over to the mangroves and the ultra-calm canals that separate section of the island. Search out the great herons, frigate birds and white egrets – maybe even spot some nests. Or get adventurous and paddle out toward the reef, stopping for a dip in the warm water. (Single and tandem kayaks available.)
Sail the Caribbean: We maintain three Hobie Cat sailboats for your pleasure. Experienced sailors enjoy visiting the sandbar nearby, even taking lunch (and a few beers) for the journey. The larger boat will accommodate four people, so you can go with friends, or make new friends. It's easy to learn to sail these boats, so just ask if you would like to try it – our captains will be happy to "teach you the ropes" (no charge) and you will be sailing in no time!
Stand-Up Paddle Boards (SUP): Try this fun and popular new sport in the calm waters on the lagoon side of the island, a great way to check out the wildlife both above and below the water. We recently added stand-up paddle boards to our water sports equipment after guest requests - and what fun it has been! Paddle boards are a great workout too.
Snorkeling: Snorkeling right off the beach is fun and free, including complimentary use of our gear. There are always fish to find around the docks and you can stay close to shore. But for the ultimate snorkeling experience, you can schedule a half-day trip with our professional guides over the coral reef system just minutes from St. George's. You will find sea life on your own, and our guides will point out varieties of reef fish, rays, eels, conch, and possibly manatees. This is great fun with a group, or just for two! Snorkelers can also sign up to join a full-day guided trip to the Blue Hole and Lighthouse Reef. This is a diver's mecca, but is also a tropical dream trip for snorkelers.
Swimming in Paradise: Guests at St. George's Caye Resort enjoy three excellent swimming options. Our sparkling pool is maintained with the perfect water balance to be ready when you are – 24/7. The water is slightly saline which means it stays clean and requires much less chlorine than traditional pools. Swim laps, start a water polo match, or just cool off in the tropical sun. Our lagoon facing swimming beach allows you to walk right into the sea from your lounge chair. You can swim out into the protected bay of our crescent-shaped island, or paddle around the docks looking for sea life.

Dolphins frequent this side of the island an you may even meet a Manatee. Take our complimentary snorkel gear and you will be sure to view juvenile reef fish. Our sands are comprised of finely broken coral making for a solid surface of beautiful white.On our dock on the windward side of the caye you will find chairs, chaise lounges and hammocks under a thatch-roof palapa and out in the sun.
Of course, relaxation and soaking up the sun are always island approved "activities". We thoroughly encourage down time and it is so much of the redeeming qualities that this secluded island paradise offers. You just relax, we will bring you a drink!
St. George's Caye Resort is found 7-miles from main-land Belize City. Transfers are made by boat and once you have landed at BZE International Airport, your valet will have you on the island's sandy shores in under 30 minutes. Offering an array of adventure, romance, relaxation and SCUBA excursions, this resort is acclaimed for pristine reefs, seclusion and the ability to do as much or as little as one wishes.
Email for more information at This email address is being protected from spambots. You need JavaScript enabled to view it. or call our friendly US based reservation line at +1-507-380-9344 or toll free at 1-800-814-8493. See all of the beautiful information at www.belizeislandparadise.com
Stay Informed
When you subscribe to the blog, we will send you an e-mail when there are new updates on the site so you wouldn't miss them.