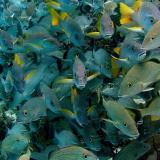 When planning a trip to Belize, guests often ask about the best available activities, both in the ocean exploring the Belize Barrier Reef and on the mainland exploring the jungles.
"I've got only 7 days, how much can I fit in?"
The answers is: a lot! Especially with our island's convenient location only 7 miles from Belize City and less than a mile from the Belize Barrier Reef - making both ocean and jungle adventures very easily accessible.
"What can I do that I've never done before? Can I learn to do something new, like sailing, snorkeling, or kayaking?"
Belize offers a variety of adventures from zip-lining through the jungle canopy and cave-tubing down a river, to ocean activities like diving, snorkeling, and sailing. At our resort there are many opportunities to learn a new hobby or try something new - our local guides and friendly staff are here to help!