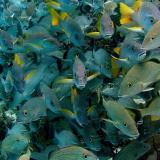 When's the best time to fish in Belize? 
Fishing here is excellent year-round, but the best times to catch the "Big Three" of tarpon, bonefish, and permit is in June, July, and August. We call this Grand Slam Season. (This is also a time when you can find the lowest airfares to Belize!) 
To help you plan the perfect trip, we're excited to announce four new Fishing Packages -- from a short weekend trip with one day of fishing, to a full-week fishing extravaganza complete with unlimited beer in our Sand Bar Lounge. And fishing off our docks is always complimentary. 
Summer 2018 Special = $100 Credit Per Night!
This May through September, we're offering an extra incentive: get a $100 credit per night stayed when you book any fishing package for two people directly with the resort. How cool is that?