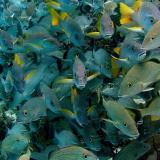 Is someone special in your life graduating from high school or college?
Reward your hard-working scholar with a trip abroad to experience adventure, culture, and post-school relaxation. We know we're a little biased, but we think a Belize vacation with jungle and ocean adventures is a fantastic way to celebrate a notable accomplishment!
GIVE THE GIFT OF ADVENTURE
Cap'n Ron and the team at St. George's Caye Resort are big supporters of education because education brings opportunity (read about the scholarship program funded by our staff). We want to help you spoil your graduate, so get in touch and we'll help craft the perfect graduation trip to Belize, complete with private thatch cabana, friendly service, and endless ocean views. 
FOR THE DIVER IN YOUR LIFE
Is your graduate certified to dive? Then they will love diving the pristine, crowd-free sites just a few minutes way from St. George's Caye on the amazing Belize Barrier Reef. Dive with sharks, rays, turtles, grouper, barracuda, and more. Divers can even spear-hunt the invasive lionfish and our kitchen will cook up their catch that night. We can also arrange bucket-list dive trips to the world-famous Great Blue Hole and Lighthouse Reef. It's certain to be a dive trip they will never forget!