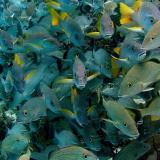 We're so excited to show you the recently enhanced guest dock at our resort! Last month we shared that the New Swimming Dock is Nearly Complete.
Our hard-working team has now finished the upgrades and the guest dock features spots to lay in the sun, tile roof for shade, and a hexagonal swimming platform. It's an ideal place to relax and take in the incredible views or go for a dip in the warm Caribbean. Grab some free snorkel gear and get to know the rays and fish that hang out in the calm shallow waters (about 4-6 feet deep).
Here's a 1-minute video where you can take a walk with us, from under the almond tree and across the beach and out onto the dock:
It was a calm and sunny morning about 6:15AM when this video was taken. Listen carefully and you can hear some of our resident birds greeting the sun-filled day.