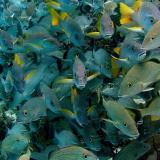 As a resort in Belize, we keep our eye on flight prices because we know how much this affects whether someone can travel to our beautiful island in the Caribbean. There are several airlines that serve Belize: American, Avianca, Copa, Delta, Southwest, and United. Airfares are getting more and more competitive thanks to the arrival of Southwest Airlines in 2015, especially during May through November.
Guests who recently booked with us mentioned getting airfares as low as $200 and $300 round-trip through Southwest Airlines. This is an incredible deal! Especially compared to the more standard fares to Belize in the $500-$800 range.
SHOW ME THE LOW AIRFARES
We had to see it for ourselves so we searched on the Southwest site for dates that overlap with our "Choose Your Discount Summer Special" (good through Sept 30th) and found:
Roundtrip from Houston = $368.06
Roundtrip from Denver = $370.66
Roundtrip from Ft. Lauderdale = $188.06
Yes, you read that correctly. Round-trip from Florida to Belize for less than $200!  
Talk about an affordable summer escape…what are you waiting for?!