2 minutes reading time
(318 words)
Lionfish Dive Tournament a Success!

The team at St. George's cares deeply about protecting the reef and the underwater world. Our Belize island resort is owned and managed by scuba divers and located less than a mile from the amazing Belize Barrier Reef, a UNESCO World Heritage Site and the largest barrier reef in the Western Hemisphere.
One of its biggest threats to the reef right now is the invasive species lion fish. These fast-breeding fish do not have any natural predators. To help keep the population under control, divers all over Belize and the Caribbean use spear guns to hunt these spiny, venomous fish. It takes skill, especially when removing the lionfish from the spear so that you don't get stung by one of their spines! But it's worth it because not only are you removing an invasive predator from the reef, but the delicate white fish is delicious to eat as well.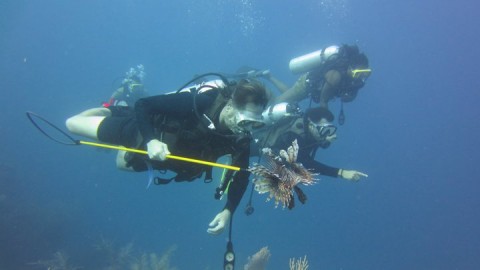 Over 1,000 Lionfish Removed from Reef during Dive Tournament!
Last week at St. George's Caye Resort we hosted our first "Save The Reef" Lionfish Dive Tournament with several teams of divers competing for biggest caught and most caught in one dive. It was a lot of fun and we hope to have even more divers involved next time. (Read more: Divers Keeping the Barrier Reef Healthy: Lionfish Tournament in October)
Most importantly, we are thrilled to report that combined the teams removed 1,016 lionfish from the reef! This is a huge impact in less than a week. Thanks to everyone who participated and helped make this possible. The coral reef thanks you too!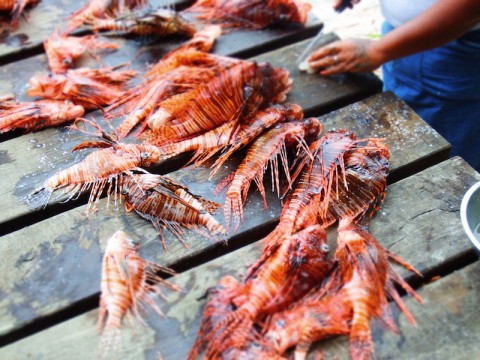 Want to Try Spear-Hunting Lionfish?
At St. George's we offer experienced divers the chance to participate in the Lionfish Dive Safari with our dive masters. It's an incredible way to expand your diving skills and do your part to help the reef. Get in touch with Cap'n Ron for more details and to schedule your Belize dive trip!
Location (Map)
Stay Informed
When you subscribe to the blog, we will send you an e-mail when there are new updates on the site so you wouldn't miss them.