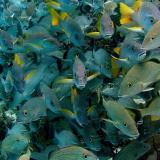 We're blushing!
Thanks to the reviews from our wonderful guests, St. George's Caye Resort has earned the 2016 Certificate of Excellence from TripAdvisor. This is the sixth year in a row (wow!) and we are honored to be recognized as one of the best island resorts in Belize.
Huge thanks to all of the guests who took the time to share their experience and help other travelers discover our secluded island retreat for divers, honeymooners, and adventure seekers. We think our slice of paradise is pretty special and we're glad you agree! Your reviews are the best thanks we can receive.
Most of the credit goes to the incredible staff of St. George's for providing our guests with unparalleled experiences and the ultimate in Belizean hospitality. We are especially thrilled by how many times guests specifically name the members of our staff who made their trip special. We strive to make you feel like a part of our island family when you are here. Thank you for recognizing the people who added something extra to your time in Belize.
As anyone who has stayed with us can agree, the staff goes above and beyond to ensure you have a memorable and relaxing Belize vacation.
Here to scuba dive the Belize Barrier Reef? Let our friendly dive masters with decades of experience on the nearby reef show you their favorite spots where you'll see lots of sea life and no other divers.
Visiting Belize for a romantic island honeymoon in an overwater bungalow? Let us pamper you with coffee and juice delivered to your room each morning, a private romantic dinner outdoors, and tropical flower petals on your bed.