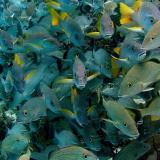 If you're like me, when you travel, you want to get in as much FUN time as you can. The actual travel part -- the planes, trains, and automobiles -- can be fun but it's not FUN fun. Especially when you're heading to a secluded island paradise and you want to get on the beach as soon as possible!
When planning how to get the most beach time on your Belize vacation, you need to take into account the
location

of the island and the

transfer times

required after you arrive in Belize.
How many hours will it take you to get there and back?

Do you need to take a plane and then a boat?

How much will it cost?

Does the resort offer transportation?