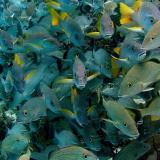 As we move towards completion of our 4th year of providing student scholarships in Belize, we are pleased to provide you, our friends, with this update. As you may know, education is not free to students and their families in Belize as it is in the U.S., Canada and many other nations. Many children living in poverty are not able to get even a basic education.
In 2013 the staff of St. George's Caye Resort came together to start a scholarship fund to help children in their home villages attend school. In August 2014 we proudly shared about the Successful First Year for St. George's Scholarship Winner, and then a year later shared that the program had expanded to help 6 students for the 2015-2016 school year! Read more: Scholarships for Higher Education in Belize
MEET THE STUDENTS WE SUPPORT
We are thrilled to share that we now support 11 high school students and one elementary age student through our program, which is fully operated by our incredible staff. All candidates were vetted for ability, motivation and need – and they are now very thankful for their educational opportunity.
Here is a little bit about the twelve students we currently support: