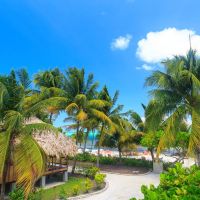 Belize is becoming a top destination not only for adventure seekers, but also honeymooners! The easy access from the United States and our "forever summer" climate, combined with the opportunity to explore both land and sea make Belize the perfect choice.
Couples love the privacy, seclusion, and personal service we offer on our little slice of paradise on St. George's Caye. We offer a unique experience where you can choose to do as much or as little as you wish. Let our friendly staff know which guided excursions you'd like to book and they will take care of all the details, or choose one of our packages ahead of time and arrive at the island with everything arranged for you.
Since Belize truly offers so many places to explore, we came up with a list of the top things to do in Belize during your honeymoon. Do one or do them all, and make the most of your time together in beautiful, adventurous Belize!
1. Dive or Snorkel to discover the magic beneath the surface of the Belize Barrier Reef.